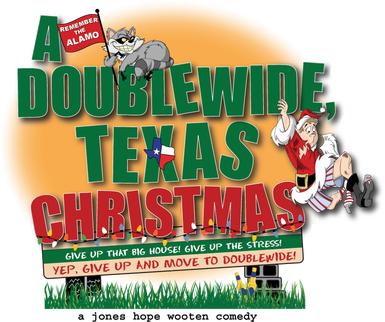 A Doublewide, Texas Christmas
A Comedy by J. Jones, N. Hope, J. Wooten
Directed by Julie Owen
In this outrageously funny comedy, it's Christmas-time in the newest—and
tiniest—town in Texas. And it's beginning to look a lot like trouble in Doublewide. Not only are the trailer park residents dealing with the stress of the holiday season, but they've just discovered that Doublewide is being doubled-crossed! 
.
---
License: Dramatists Play Services, Inc.
REVIS BELL

Assistant Director
VIVIAN PERKINS

Stage Manager
VANESSA PEARSON

Lights/Sound Designer
AVRY DIAZ

Lights/Sound Tech
DAVID MCNAUGHTEN

Backstage Crew
ROBERT WISE

Backstage Crew
JULIE OWEN
Big Ethel Sattelwhite

CASSIE WRIGHT
Georgia Dean Rudd

KAYLA SKINNER

Lark Barken
BRUCE BLIFFORD
Haywood Sloggett

JEFF MERRIMAN
Norwood Crumpler

MARLA MILLER
Joveeta Crumpler

JUDY ALHORN

Caprice Crumpler
ROBERT WISE
Nash Sloggett

REVIS BELL

Voice of Harley
Activities
Schelude
a:1:{s:0:"";s:26:"a:1:{s:0:"";s:6:"a:0:{}";}";}