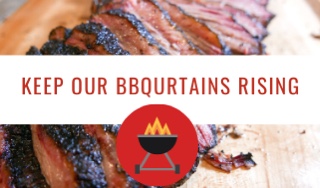 If you are looking for dramatic flair and flavor, you have come to the right place!  Join us on August 22nd as PLT becomes the Best Little Smokehouse in Texas for our 'Keep Our BBQurtains Rising' BBQ Fundraiser.
Until we can bring exceptional theatrical entertainment back to our stage, we're setting the stage for deliciousness and you won't want to miss that!
Pre-order your BBQ Sandwich plate today on our site.
Make sure your order is in before August 14th  and let's keep those BBQurtains up, y'all!
---
Activities
Schelude
a:1:{s:0:"";s:89:"a:1:{s:0:"";s:68:"a:1:{s:0:"";s:47:"a:1:{s:0:"";s:26:"a:1:{s:0:"";s:6:"a:0:{}";}";}";}";}";}