Beer for Breakfast
Tickets On Sale NOW!     Click on the Image Below.
March 17-26  2023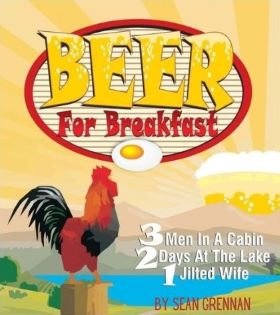 69th Season Line Up and Kickoff Announcement!
2023-2024
Season Line Up Announcement  –  See What the New Season Shows Will Be!
Join us on April 22nd for the Season Kickoff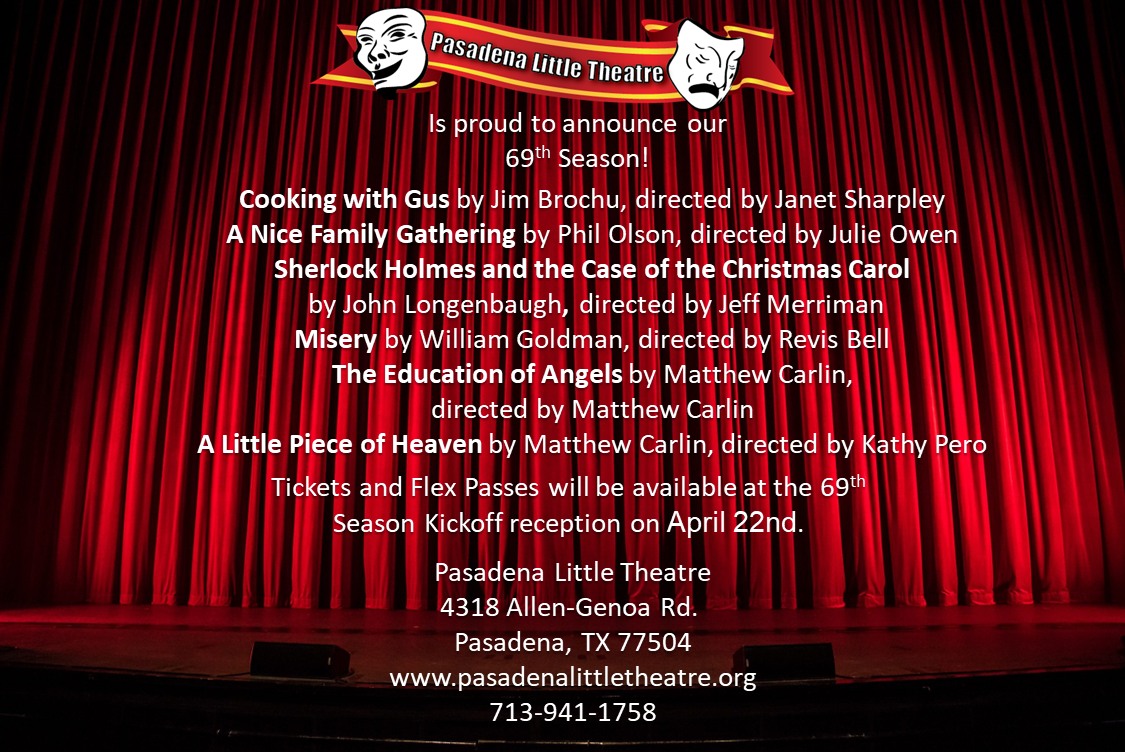 2023 Shooting Stars – Young Actors Workshop
Workshop – July 10-14 and 17-20.
Performances July 21, 22 & 23 (Matinee)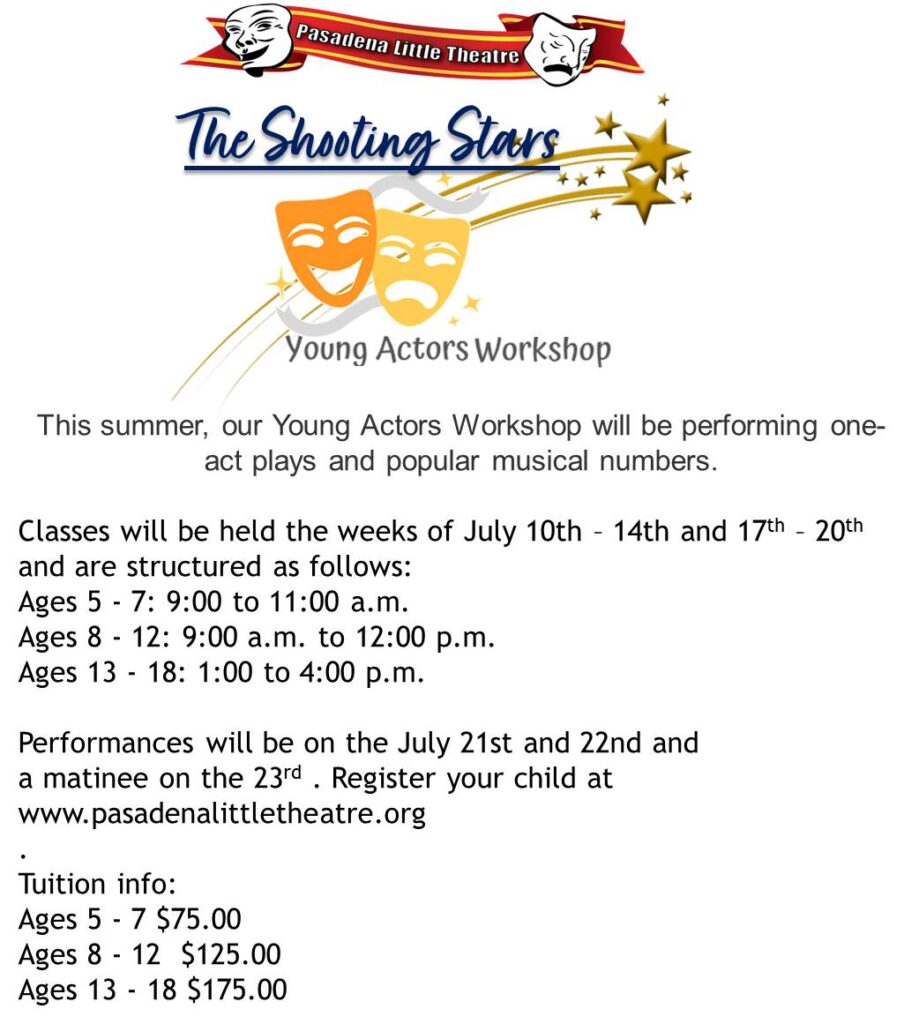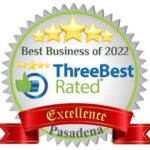 Welcome to the Pasadena Little Theatre
We are a non-profit 501(c)(3). Our Mission is to Bring Quality Entertainment and Theatre Education in Pasadena and the Surrounding Areas.
Regular Season Show Times
FRIDAYS & SATURDAYS @ 8:00PM
SUNDAYS @ 2:30PM
Pandemic Compliance
With relaxed state Covid-19 protocols, masks are now optional. For those who have not been fully vaccinated, masks are encouraged. While Pasadena Little Theatre (PLT) is following Pandemic Compliance Advisories, we cannot prevent you from becoming exposed to, contracting, or spreading COVID-19 while attending its performances and/or entering the building. It is not possible to prevent against the presence of the disease. By purchasing a ticket you acknowledge there is a risk.
News Room
Subscribe to stay up to date with the latest news and reviews from the Theatre.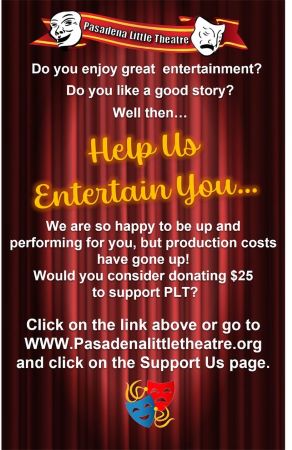 By Karen Cheney
/ Mar 22, 2022
Please consider donating to PLT. Click on Support Us to find donation link.
Read More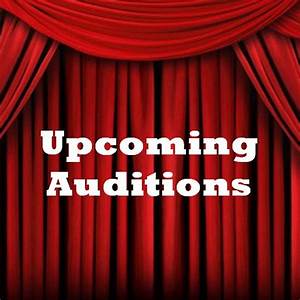 2023-2024 – 68th Season Auditions:
TBA

Production Staff/Crew
Director
Assistant Director
Lighting/Tech
Stage Manager
Revis Bell
Robert Wise
Vanessa Pearson
Brett Owen
Cast
TJ
Jessie
Mark
Richard
TJ – Jeff Coletta
Jessie - Debbie Broadhead
Mark – Revis Bell
Richard - Mark Stanley
See what people are saying About Us

Teresa Warren

Patron

 I have to say this was one of the best plays I've personally seen at PLT. ( and I've seen some good ones too).
Sybil tugged at my heart and I started tearing up at the beginning of her speech but … literally … by the time she finished and left the stage I was sobbing….. extremely good acting and directing !!  I had to sneak out the front past the actors because I was a blubbering idiot .. Please pass this on to the actors and directors

Teresa Warren

David Gerany

Patron

Absolutely loved the venue and the play we watched, produced by Judie Valentine.
I Can't recommend this place enough, if you've never been, please do yourself a massive favor….GO.

David Gerany

Maria Tobias

Saw Who's Afraid of Virginia Woolf with daughter. Loved the performances! What a great little treasure in our neighborhood!!

Maria Tobias

Diana Lewis

My husband and I went and saw "The Spitfire Grill" last weekend. It was FANTASTIC!!!!! I felt completely drawn into the play. The setting, and costumes reinforc…ed the direction of the play, together with awesome musical character portrayals…giving the whole experience a five star overall performance. It is funny at times, emotionally charged and has a great story line. Don't miss your last chance to see this play. You won't be disappointed

Diana Lewis

Jim Tommaney

The Houston Press

Dear Gregory R. Brown, There's rarely space to mention a theater's physical facilities in a review but I do like your space.

"Just a note to say how much I appreciate the generous tiered seating, which provides such good sight lines for the audience. And the handrails in the aisles are useful to the older folk – I wish some of the larger theaters would copy! It's always a pleasure to see a well-designed theater."

Jim Tommaney

Pat and Rose Ann Cook

Playwright

Dear Greg,
Just wanted to drop you a line to say what a delightful time Rose Ann and I had on Friday night. You put together SUCH an excellent production and your direction was right on point. One of my bugaboos about staging comedy is pacing – seems as if so many directors these days never heard of it. But you have the knack and also the ability to transfer your energies to your cast. Also, you have SUCH a wonderfully talented, skilled and, best of all, enthusiastic group there. I can't speak for other authors but I just can't write enthusiasm into a play – that has to come from the performer. And your group really put forth that extra, and decidedly valuable, effort that makes a script a play, even a revue such as this one.
Thank you and your cast and crew. Really made our Christmas season to see your remarkable and, if i may say so, very funny show! I don't feel the least bit awkward about saying that last part because SO much of the comedy came from your cast!

Merry Christmas

Pat and Rose Ann Cook

Jim Tommaney

The Houston Press

Pasadena Little Theatre was one of ten local theatres mentioned in the Houston Press online Christmas list of praise.

"Candy canes and full stockings to the many Houston theaters which do such brilliant work. Here's a small sampling from a cornucopia of talent, in no particular order: "Pasadena Little Theatre for an excellent To Kill a Mockingbird and for the hand rails in the aisles that aid the elderly. "Best wishes, and thank you for the good work.

Jim Tommaney