Check this page often for upcoming audition notices for the Pasadena Little Theatre productions.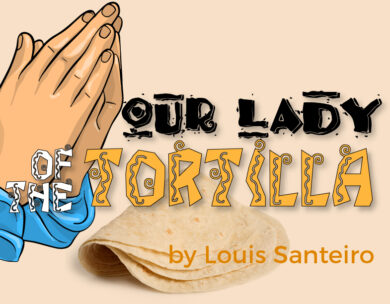 Our Lady of the Tortilla
by Luis Santeiro
Directed by Crystal Mata
Sunday and Monday, March 15 & 16, 7 pm – 9:30pm
Performance dates: May 8 – 24
This is a non-paying gig.
Please be prepared to cold read from the script. Being bilingual is a plus but not required. *All races and ages are
welcome
to audition. Character races and ages are given as guidelines.*
Synopsis: The Cruz family is volatile even in the best of times. On this particular day, Nelson, the youngest son, enters the house in a panic to hide the more obvious religious relics from the sight of his "gringo" girlfriend, who is visiting for the weekend. Nelson's mother, Dahlia, is obsessed with retrieving her husband from his new girlfriend; Eddy, her elder son, shows up in a van with his failed life and pregnant girlfriend. But the "real" pandemonium is caused by sweet, long-suffering Dolores, Dahlia's old-maid sister, when she sees the face of the Holy Virgin in a tortilla. This miracle brings hordes of believers and reporters to camp out on the Cruz's lawn to await further miracles. As the family struggles with beliefs and conflicts, old and new, the endurance of family love is revealed to be the real miracle.
Character Descriptions:
Dolores (Latina – 50s): A spinster caterer. Dolores is a little on the conservative side, religious and very giving. She can be a bit naive but loves her family and will do anything for them.
Dahlia (Latina – late 40s) : Dolores' sister. Dahlia is blinded by the love for her estranged husband. She is quick witted and a bit jaded. She loves her sons very much.
Eddy (Latino – 20s): Dahlia's older son. Eddy is an example of the stereo-typical "macho" man. He is a womanizer and a smooth-talker.
Nelson (Latino – 20s): Dahlia's younger son. Nelson is your typical college student but very insecure about his culture. He doesn't have a great relationship with his brother and he has a tendency to lie to his girlfriend about how his family actually behaves.
Beverly (Non-Latina – 20s): Nelson's girlfriend. Beverly is a very sweet and enthusiastic person. She likes Nelson a lot and his completely blind to Eddy's advances. She is very excited to spend time with Nelson's family and learning more about their culture.