Check this page often for upcoming audition notices for the Pasadena Little Theatre productions.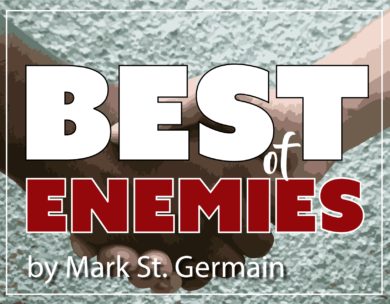 Best of Enemies
by Mark St. Germain
Directed by Gregory R. Brown
Audition dates: Sunday & Monday, July 8, July 9 7pm
Performance dates: August 31 – September 16, 2018
Based on The Best of Enemies by Osha Gray Davidson, a true story about the relationship between C.P. Ellis, a Grand Cyclops of the KKK, and Ann Atwater, an African-American civil rights activist, during the desegregation of the Durham, North Carolina, schools in 1971. It exposes the poison of prejudice in the hearts of Atwater and Ellis who, by facing each other, are forced to face the worst, and best, in themselves.
2 M, 2 F Mixed Cast
C.P. Ellis – Exalted Cyclops of the Durham Klu Klux Klan, white mid 40s
Mary Ellis – Wife of C.P. white, late 30s – mid 40s
Ann Atwater – Civil rights activist and civil leader. Black mid to late 30s, last scene 70s
Bill Riddick – College Educate, community organizer. Black 30s, last scene 60s
for more info email the director Gregory R. Brown