Check this page often for upcoming audition notices for the Pasadena Little Theatre productions.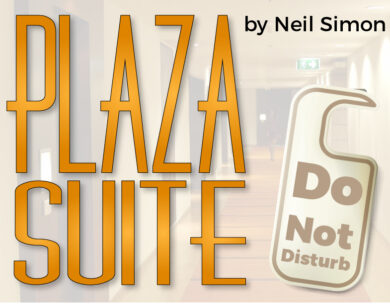 Plaza Suite
Comedy by Neil Simon
Directed by Leslie Barrera
Audition dates:  April 28,29, 7 pm
Production dates: June 14-30, 2019
Three one-act comedies involving a young couple on the rocks, a couple attempting to relive their youth, and a couple dealing with their daughter who locked herself inside the bathroom on her wedding day… all set in the New York Plaza Hotel.
Needed are 5 females and 6 males who can play ages 25-55.
CHARACTER DESCRIPTIONS
Karen Nash
Played at Forty eight years old and fine with it. A pleasant and affable woman, Karen has allowed herself to look middle aged because she knows she is middle aged. She is witty, and down to earth. She is also secretly hoping the visit at the suite will bring her and her husband closer together. (It is their Anniversary, she thinks)
Sam Nash
Sam is played at Fifty years old but can not come to terms with it. He is trim, incredibly neat and well tailored. Sam needs to know he looks good, and also that others know he looks good. He goes to great strides to keep the years at bay, with exercise and a meticulous diet. Sam is a workaholic, but not just because he likes to work.
Jean Mc Cormack
Jean is Sam's secretary and highly efficient. She is well groomed, attractive, and bright and cheerful at 28 years of age. She is also Sam's mistress.
Bellhop
Young man-played late teens- early thirties, eager to please and will visit as long as he needs to get his tip.
Jesse Kiplinger
A confident Forty year old Hollywood producer who has made his success but still feels his life is missing the kind of relationship he had in his teens with Muriel. He has one purpose in seeing Muriel.
Muriel Tate
In her mid-late thirties, very attractive and still seems somewhat naïve. She is warm, and generous, and very impressed with Jesse. She is unsure of meeting with him, and yet can't seem to make a decision to stay or go. She claims to be happily married…..
Norma Hubley
Played age 40-55. Dressed as mother of the bride and trying to appear calm in a crisis with every one EXCEPT her husband. Married to a Type A personality, she sways from trying to keep him in calm and in control while passively and aggressively taking a stand for herself.
Roy Hubley
Played age 45-55. The father of the bride with the bills to prove it. A competitive business man, out of his league when dealing with emotions and marrying off his daughter.
Borden Eisler
The young confident groom, a man of few words. (Literally)
Mimsey Hubley
A nervous bride, afraid of having her marriage turn out like her parents' marriage.
Waiters
Two waiters
Auditions are cold readings from the script. Must be able to take direction. All roles are non-paying. Director is open to the possibility of multi role casting but not limited to it.
Wanna be a CREW MEMBER? 
Audition nights are a perfect time to come out, meet the director, and express your interest in helping out backstage, be it in the role of a stage manager, lights & sound operator, prop manager, or another vital production role.
Email any questions to director Leslie A. Barrera at: