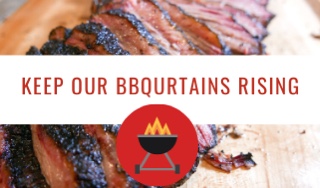 Summer time is the Perfect time to Support your Hometown Theatre
Join us as we prepare to raise the curtain on some delicious BBQ. Why is a Theatre having a BBQ Fundraiser? Because this is TEXAS, Y'all!  Until we can serve our audiences outstanding live performances, we'll settle for serving you enjoyable social media content and delicious BBQ.  You can pre-order your BBQ order now and pick it up at PLT on Auguste 22nd at the time you indicate on your order form. If you would like to place your order for a BBQ Sandwich plate, please fill out the order form below.  
BBQ Sandwich Plate includes:                                                                           Ready to make it a Texas Meal? You can add on 
Chopped Brisket Sandwich                                                                       Beverages and a Homemade Best Brownie Ever!
Potato Salad
BBQ Baked Beans
BBQ Order Form Instructions:
Please fill in your contact info
For Multiple Choice selection, please Click your choice then Hold CTRL and click to add another choice on the same selection box.  Ex. want to order 25 BBQ Plates?  Click 20, then Hold CTRL and Click on 5 plates.  
Once you hit the SUBMIT button, your order will be received, reviewed/processed and confirmed via Phone call. 
THANK YOU for supporting our theatre and the performing arts!