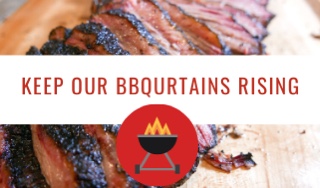 Summer time is the Perfect time to Support your Hometown Theatre
Join us as we prepare to raise the curtain on some delicious BBQ. Why is a Theatre having a BBQ Fundraiser? Because this is TEXAS, Y'all!  Until we can serve our audiences outstanding live performances, we'll settle for serving you enjoyable social media content and delicious BBQ. 
Thank you for your support. The BBQ ordering online is now closed. We'll see you on BBQ day!